Establishing Paternity – by Christopher Lebherz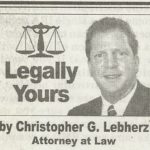 Because not all families start out in accordance with the traditional sequence of marriage followed by the birth of a child, there are cases that call for a man to establish that he is the father of a child. Contrary to popular belief, "paternity" cannot be established by a man's name on a child's birth certificate. The fact is that the mother can list anyone whom she believes or wants to believe is the father on the birth certificate. Nor is a DNA test the only way for a father to establish paternity. With an attorney's help, paternity can be established through several means, including having an unmarried couple sign a voluntary acknowledgment of paternity or a similar agreement.
A lawyer can help you with starting a business, tax issues, estate planning, marital issues and so much more. If you have a legal concern, please call LEBHERZ & LEBHERZ, Attorneys at Law, at (508) 548-6600 to schedule a consultation to review the details of your case. We are located at Old Bailey Court, 99 Town Hall Square. Call us.